ABOUT-old
The Origins of Traditional Thai Massage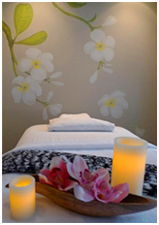 Traditional Thai massage has treated people for over 1,000 years and has worked wonders. This ancient healing art helps to achieve a healthy body and a relaxed mind through the healing power of touch. Thai massage works the joints and soft tissues by pressing, pulling, stretching, and manipulating the body. This massage will improve flexibility, increase vitality, ease pain, and promote circulation, offering a fully relaxing experience. No other type of massage provides a more powerful combination.
Meet Kan, Our Head Therapist
Kan, our head therapist, is a licensed facial specialist and massage therapist who has worked for Privilege Spa (SoHo) and other luxurious New York spas. She serves high profile clientele and has developed unique techniques combining her education and training. Her signature treatment of massage combines acupressure and Thai yoga techniques.
In her signature facial treatments, she uses high quality Dermalogica products that include cleansing, exfoliation, steam, toning, extraction, and a masque.